Connect Genesis with Power BI/ Verbinden von Genesis mit Power BI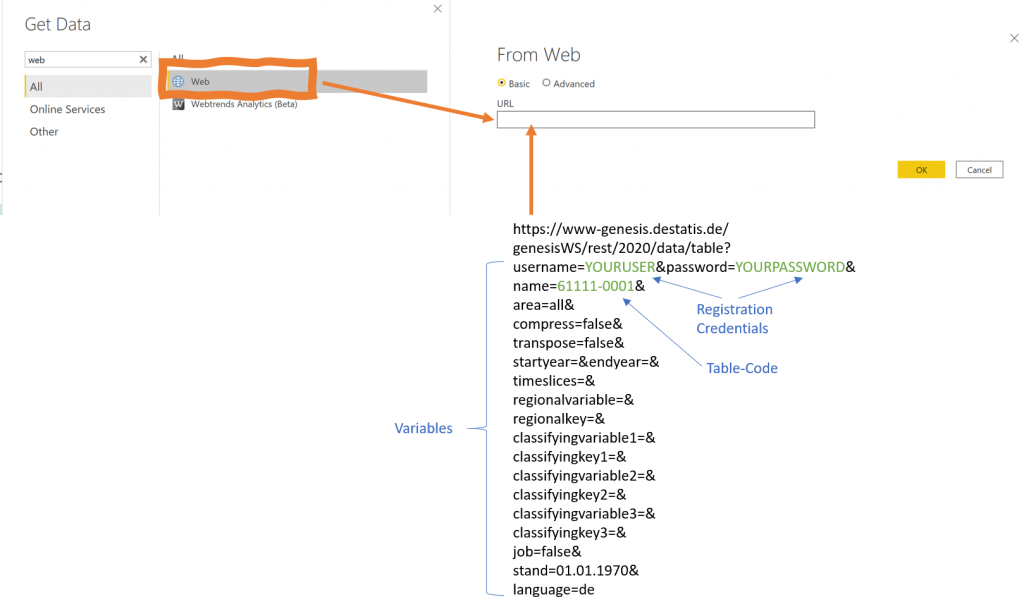 Zum Verbinden mit der genesis.destatis müsst ihr folgenden code in den Web-Konnektor eintragen. Vergesst dabei nicht eure eigenen Zugangsdaten, die Ihr erhalten habt nach der Anmeldung, hier einzufügen! Die Tabelle die hier eingetragen ist, ist lediglich ein Beispiel und muss nicht geändert werden.
---
To connect to genesis.destatis you have to enter the following code into the web connector. Do not forget to insert your own access data, which you have received after registration, here! The table that is entered here is only an example and does not need to be changed.
Code
https://www-genesis.destatis.de/
genesisWS/rest/2020/data/table?
username=YOURUSER&password=YOURPASSWORD&
name=11111-0001&
area=all&
compress=false&
transpose=false&
startyear=&endyear=&
timeslices=&
regionalvariable=&
regionalkey=&
classifyingvariable1=&
classifyingkey1=&
classifyingvariable2=&
classifyingkey2=&
classifyingvariable3=&
classifyingkey3=&
job=false&
stand=01.01.1970&
language=de