Deaktivieren des Self-Services/ disable self-service
Hi,
vielleicht hat der ein oder andere meinen letzten Power BI Talk in deutsch auf Twitch oder Youtube mitverfolgt und hat daher schon einen kleinen Eindruck gewonnen warum es eine interessante Option ist die (Power BI) Free Lizenzen du deaktivieren (Unternehmensweit). Die Idee dahinter ist simpel, wenn man in einem größeren Untenehmen unterwegs ist und es einfach keinen guten Prozess für Self-Service gibt, dann ist das ausschalten der freien Lizenzen eine gute Lösung. Allerdings sollte man sich auch im klaren sein, das es denn auch dazu einen Prozess Bedarf um die entsprechenden User zu berechtigen. Sei es ein interner IT-Shop oder einfach ein Formular in welchem man dies beantragen kann. Wichtig ist hierbei nur es werden immer Prozesse benötigt, egal wie man es dreht oder wendet. Eine kleine Anleitung findet ihr im unten stehenden Bild. Die Einstellung zieht sofort.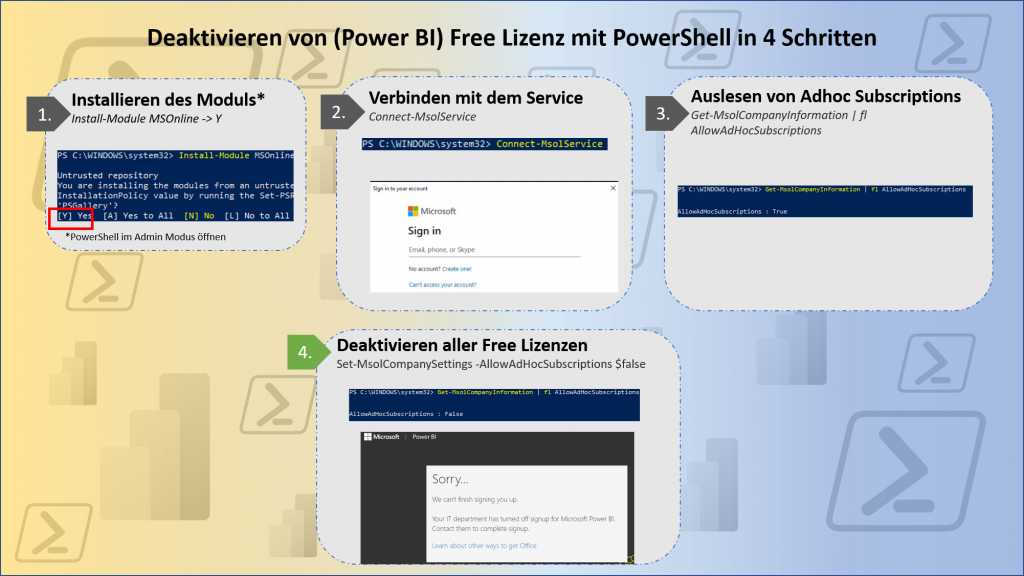 Für die einzelnen Schritte benötigt ihr folgenden Code:
PowerShell Code
1) Install-Module MSOnline 

2) Connect-MsolService

3) Get-MsolCompanyInformation | fl AllowAdHocSubscriptions

4) Set-MsolCompanySettings -AllowAdHocSubscriptions $false

maybe some of you followed my last Power BI Talk in German on Twitch or Youtube and got a small impression why it is an interesting option to deactivate the Power BI Free licenses (company wide). The idea behind it is simple, if you are in a larger company and there is simply no good process for self-service, then turning off the free licenses is a good solution. However, one should also be aware that a process is needed to enable the corresponding users. Be it an internal IT store or simply a form in which this can be requested. The only important thing is that processes are always needed, no matter how you turn it. You can find a small tutorial in the image below. The setting pulls immediately.
For the individual steps you need the following code above.